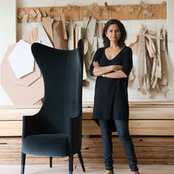 D'Cruz Design Group Sydney Interior Designers
Kommenterade: this mirror is awesome,where is that from?Cheers!
Please accept our sincere apologies for the late reply! The mirror was a temporary one installed while we waited for the actual mirror to be delivered. As this was ordered by the builder, we unfortuna...
Kommenterade: Carpet dilemma, is textured or twist pile best?
We have never had any issues with maintenance of the 'bobbled' look carpet with any of our clients and if this is the look your resonate with, go for it! The team a D'Cruz Design Group
Kommenterade: Can rug discolour my new floor board?
A more common issue for timber floors is the sun hitting the exposed timber and not the timber that is under the rug that causes discoloration (timber changes colour when exposed to sun whether direct...
Kommenterade: Aaron, Hertfordshire
Thanks again for your further enquiry. Unfortunately we are not aware of any cheaper ranges in the same style. All the best. The team at D'Cruz Design Group