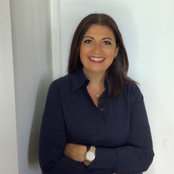 Maria Deschamps Design
Kommenterade: Searing
Hello! We had this seating made by Jaymar. They have a great selection of home theater seating and offer many options! Feel free to contact me if I can help you with your home theater or offer a disco...
Kommenterade: walls
Hello again! Yes, I designed this space and I could help you with the wall finishes and the installation. I have contacts for both. Feel free to contact me via email or phone to discuss your project i...
Kommenterade: Need house color inspiration
Hello, Where is the front door ? I see only windows and the garage door. Do you have another photo?
Kommenterade: I need help for my new store
I would suggest hiring a professional store designer. An experienced designer can work with your product, market and design or specify specifically for your needs. They will also work with your budget...
Kommenterade: Dimensions Please
Hello! This room is an ideal size for the use! it's 20' x 24', and the distance from screen to the "sweet spot" is almost 13'. We have standards to follow determine the minimum and maximum distance re...