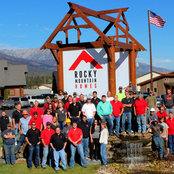 Rocky Mountain Homes/Rocky Mountain Log Homes
Kommenterade: Do you sell the bathroom mirrors?
Thanks for your question, I'm sorry but we do not sell these bathroom mirrors. I believe these were purchased several years ago at Piney Creek Interiors in Whitefish, MT.
Kommenterade: knotted wood
It was taken from "character logs" and is Lodge Pole Pine.