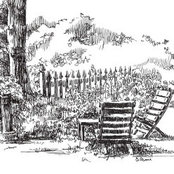 MJ McCabe-Garden Design
Kommenterade: Really love this border! Roses?
The rose is Mystic Meidiland which is sadly no longer being grown https://www.heirloomroses.com/mystic-meidilandr.html--I would suggest a good substitution would be the Drift series of roses--especial...
Kommenterade: Where can I get the fence?
this is a ready made fence--which came from a supplier in New Haven , CT not sure where you are located--it is about 4' high--cedar which we painted a dark green--
Kommenterade: Buddleia?
Yes--It is Buddleia alternifolia 'argentea' Here in CT it blooms about the first week in June--very fragrant--For the rest of the season, it has arching silver foliage that cascades over the garden--I...
Kommenterade: Show Us Your Gardens - A Photo Thread -February 2015
Mounds and mounds of snow and they are predicting more??? Even thought this has been a snow- ladened winter I am truly grateful for the wonderful insulation it has provided to our shrubs and perennial...
Kommenterade: So pretty!
the boxwood is a dwarf form called 'Tide Hill'--- in early spring they are light green and darken to a deep green later in the season
MJ McCabe-Garden Design
uppdaterade sin profil
2 mars 2019
MJ McCabe-Garden Design
följer
Longwood Gardens
2 mars 2019